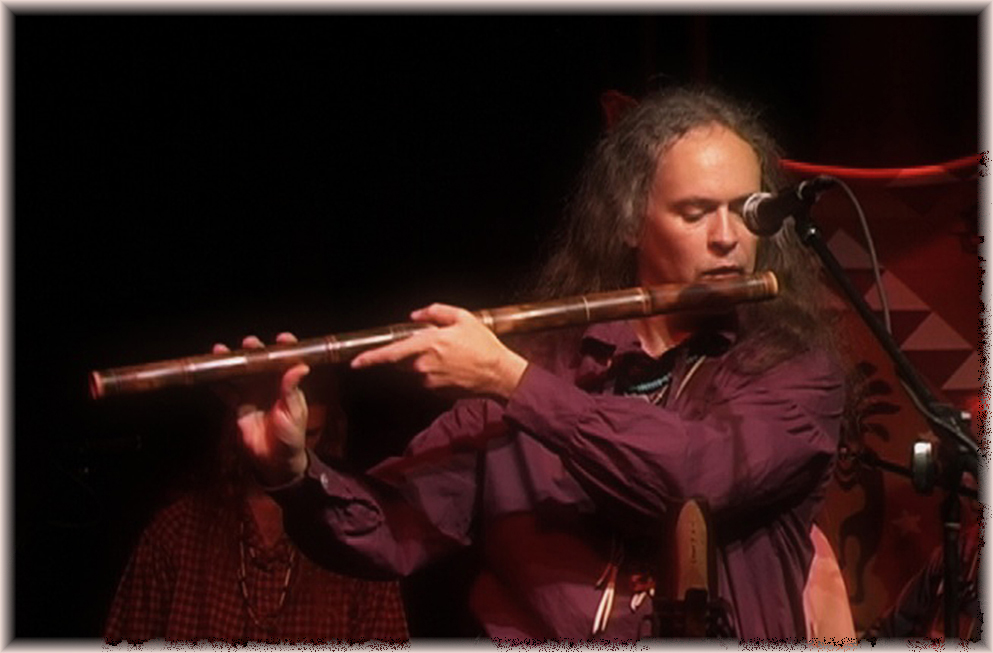 Michael is an accomplished musician and performer who's love for music and search for his native
heritage led him to the Native American Wood Flute. With over 35 years of experience and as a
performance and studio musician, as a drummer and percussionist, Michael developed his
talents and perfected his gift for mastering intricate rhythms. Michael has worked as a
studio drummer for many well known recording artists and as a drum clinician. He later learned, under
the teachings of Kenneth Leonard, the electric, acoustic and classical guitars as well as
music theory, history and ethnomusicology as a private student. With this knowledge, Michael
desired to incorporate as many different types of instruments and backgrounds into his
recording compositions - especially Native and cultural instruments.
Michael has continued with this love and has incorporated Native rhythms with many World cultural music.
With Michael's award winning Ceremony cd release, (Best World Recording), he incorporated many world
cultural flavors combined with the love of Native rhythms and the flute. It drew much attention
and proved that all cultures are indeed one, at least in the international language of music.
A step forward from Michael's earlier works of a more meditative subject matter, he won the praise
of his existing fans as well as bringing onboard many more world eclectic tastes. Michael has
continued on this World Fusion path and has released his latest project, The Mirror, with long time
band member TJ Marlatt which incorporates many more facets of music, including world vocals.
Michael's passion and interest has always been in the music arena. With this passion as fuel
Michael has begun teaching on the ancient methods, as well as today's methods, of construction
and uses of the flute in the Native ways of life. Michael has dedicated his life to educating and teaching
his Native culture and using his expertise in the flute and other instruments as a catalyst for this training.
Michael is a full time musician, performer and educator as well as a full time wood flute
maker. He travels and educates on Native American culture and heritage through music
across the country. He teaches and performs in various arenas, from historical societies,
corporate business gatherings, Native arts organizations, festivals, theaters
and colleges to day care facilities, K-12 schools and national events.
Michael is proud to be a member of the Eastern Cherokee tribe & of Powhatan descent....
Michael is the 2009 NAMA (Nammy) winner for Best World Recording for his Ceremony cd.
Nominated for Song of the Year for Indian Reservation, 2009 NAMA (Nammy) Awards.
Nominated for 2009 Just Plain Folks Music Awards Video of the Year, Live in Concert DVD.
Nominated 2009 Just Plain Folks Music Award for Album of the Year, Un earthed and
Just Plain Folks Music Award nominee for Song of the Year - Appalachian Sunrise.
Nominated for 2008 NAMA (Nammy) Best Long Form Video of the Year.
Michael is a Just Plain Folks Music Awards 2006 Album of the Year winner
for his cd Voice From Within and a Song of the Year nominee for The Gathering.
He was a 2006 Nammy Award nominee entree for six categories for his Un earthed cd.
He has also had nominations for the Aboriginal People's Choice Awards
in 3 categories for his Un earthed cd release....

Michael was nominated for 'Artist Of The Year' from the Yankee Peddler Foundation - 2005
Michael's cd's and dvd can be found at many local stores which carry Native and World genre music
as well as Amazon.com, Borders.com, CDbaby.com, Super D cd distribution, searchingbearflutes.com
and can be downloaded @ iTunes, Rhapsody, PayPlay.fm and MySpace and many more.
Michael's cd's are available from his special friends at Paramount Press Inc. -
the exclusive publisher of personal friend Robert Griffing's paintings & books.
---
RECENT HONORS:
The Mirror was entered in 1st round ballot for Best Rock Album category 2010 Grammy Awards.
Ceremony cd is the 2009 (Native American Music Awards) Nammy Award Winner for Best World Recording!
Ceremony's Indian Reservation song was nominated for Song of the Year 2009 Nammy Awards.
Live in Concert DVD was nominated for 2009 Just Plain Folks Music Awards Video of the Year.
Un earthed Nominated 2009 Just Plain Folks Music Award for Album of the Year and
Just Plain Folks Music Award nominee for Song of the Year - Appalachian Sunrise
2008 Native American Music Award nominee for Best Long Form Music Video for Live In Concert dvd release
Honored to be a Spirit Wind Records Silver Arrow Award winner for outstanding contribution to
Native American music, 2008
Honored to be a presenter at the 9th & 10th annual Native American Music Awards (Nammy's) show, 2007-08
2007 Aboriginal People's Choice Awards nominated artist in 3 categories for 2005 'Un earthed' cd release
Honored to be filmed for the 100th Crooked River Groove show at Tri C University, Cleveland, Ohio - 2007
2006 Just Plain Folks Music Awards WINNER for album of the year for 2003 'Voice From Within' cd release
2006 Just Plain Folks Music Awards nominated song for 2003 'Voice From Within' cd release 'The Gathering'
2006 Native American Music Awards nominated artist in 6 categories for 2005 'Un earthed' cd release
'Un earthed' cd used on the History Channel's Windtalker's weekly radio show - 2006
Photo appears in ethnomusicology college book, World Music - A global journey - 2006
Song, The Gathering, from cd release 'Voice From Within' is used in Kulture Kids
cd release- The Talkative Turtle and other Tales - 2005
Nominated for 'Artist Of The Year' from the Yankee Peddler Foundation - 2005
Have been cited & published in many publications on the Native flute
including educational materials - 2005
Michael's music has appeared on many cd's & dvd's as
listening pleasure as well as informational use - 2005
Performance for the International Children's Games - Cleveland, Ohio 2004
Several local TV station interviews & spots for ABC, CBS, FOX & NBC - 2003/2004
Performance and interview for PBS - 2002/2003
---




Copyright 2009 © Michael Searching Bear. All rights reserved.
Michael Searching Bear & Searching Bear Flutes ~ admin@searchingbearflutes.com